GGMM Tutorial
Tools:
GTA Garage Mod Manager
Tutorial author:
FunGt
This tutorial explains the GTA Garage Mod Manager features. If you want to install a vehicle using this tool
follow this tutorial
. To install this tool you have to copy
ggmm.exe and gtainterface.dll
into GTA main folder:
C:\Program Files\Rockstar Games\GTA San Andreas\
Vehicle name.
Vehicle ID.
Refresh the window.
Installs new vehicles.
Vehicle informations.
Showmode.
Creates an autoinstalling package of the selected vehicle including dff, txd and settings lines.
Installs an autoinstalling ggm package.
Restores the original vehicle.
Creates vehicle backup (dff, txd and settings lines).
Normal vehicle view.
Wireframe vehicle view.
Low quality vehicle view (used from long distances).
Damaged vehicle view.
Shows vehicle list.
Shows weapons list.
Not yet available feature.
Search box.
Vehicle list.
The selected vehicle.
How to see peds list on GGMM:
Double click on Browser.
Now click the part indicated in this screen.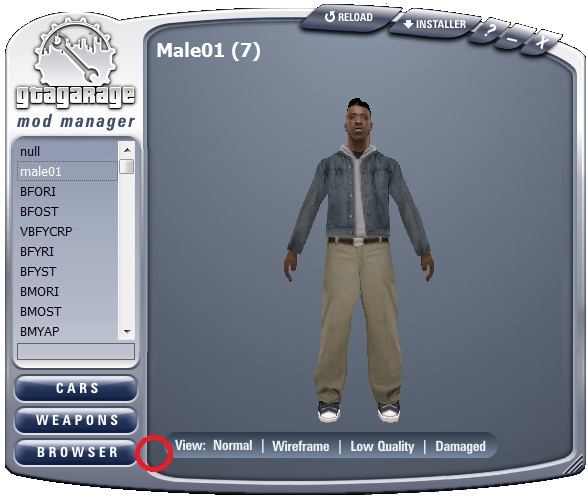 Advertisements