Play as a ped using Skin Selector
Tools:
Skin Selector
and
Cleo Library
Tutorial author:
FunGt
This tutorial explains how to turn CJ into any other PED of San Andreas using Skin Selector. This
Peds ID List
combined to peds.ide file may be very useful to know which ped you want to replace. This mod allows you to choose any ped or special actor right into the game. Furthermore, this mod allows to add 256 new skins without replacing any ped.
Skin Selector installation:
Install CLEO library if you haven't it yet.
Download and extract Skin Selector somewhere.
Copy to CLEO folder only one of the cs file included in the archive. The skin_o.cs and skin_c.cs files saves the game respectively to "CLEO\skin_o.sav" and "CLEO\cleo_saves\" and both allows you to load the game with custom skin. The skin_n.cs files doesn't save and the game will load default CJ skin.
Copy skin.img file into CLEO folder.
Copy gta.dat into data folder replacing old one.
Run the game and hold TAB + Q + E buttons to activate the menu. If you changed default San Andreas buttons use Secondary Fire + Next weapon + Previous weapon.
Follow menu istructions to change the skin.
Install a new skin and play with it:
Download a skin with its own dff and txd.
Extract the mod somewhere.
Run Alci's IMG Editor, File>Open and select skin.img from CLEO folder.
Click Import and add dff and txd of the skin downloaded.
Click Rebuild, then Save and close.
Run the game, open the Skin Selector menu and select the third item.
Here you should find your new skin, so select it and play.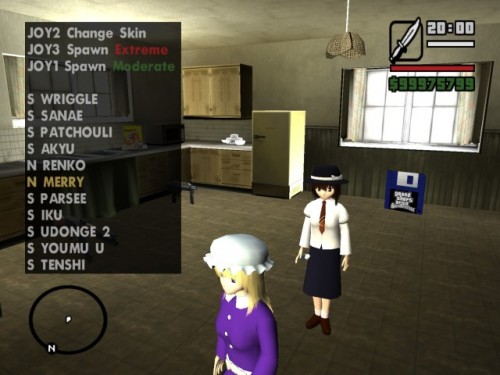 Advertisements