Introducing MTA:SA
Tools:
MTA SA
Tutorial author:
FunGt
Installation:
Before continue, be sure you have San Andreas v1.00 without any kind of mod installed. To check out your SA version, go to
this page
. Download MTASA from the link above and run the automatic setup. Accept the usual license and click Next. Choose the components to install, I recommend to select everything, and click Next. Here you have to choose the folder where you will install MTASA. This folder can be any, I recommend to install it in Program Files folder. Click Next and here you have to select your San Andreas folder installation that usually is:
C:\Program Files\Rockstar Games\GTA San Andreas\
Click install to finish the installation process.
The client:
Once you installed MTA let's run it (Multi Theft Auto.exe). Now you should be able to see a window with this menu: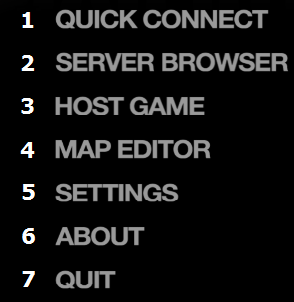 Allows you to connect to a specific server where you already know IP and Port.
Shows you the list of the servers currenty online.
Allows you to host a server with your own computer.
Run Map Editor to create own content and maps.
Shows general settings (audio, video, controls).
Shows informations about the creators.
Shut down MTA and go back to desktop.
The commands you'll be able to use in almost any server are the following:
Esc: shows the main menu of MTA.
F12: save a PNG screenshot into ..\MTA San Andreas\screenshots.
F8: shows the console.
F9: shows the help.
T: allows you to chat with others.
Y: allows you to chat with your team only.
TAB: shows you the player list.
Commands you'll be able to execute into the console:
help: shows this list of commands
bind defaults: restore default settings.
maps: shows the map list of the server.
nick NEWNICK: allows you to change your nick.
msg NICK MSG: sends a message to a specified player.
ver: shows the MTA client version.
time: shows the time.
disconnect: disconnect from the current server.
reconnect: connect again to the last server you joined.
say TEXT: sends a message to the chat without any name.
ignore NICK: ignore all messages of specified player.
quit: shut down MTA and go back to desktop.
Advertisements